GraphData 1.0
FreeWare

Home, Scale 2.0, Google Earth Tool (GE-Graph and GE-Path), Simulation Models
---
Often, in scientific research, the researcher has only available data in chart form, having to use a ruler and pencil to estimate the numerical value of each point on the graph when needed.
GraphData is designed to automatically extract numeric data from charts (bmp, gif, jpg, etc.), facilitating the work of extraction the numbers and increasing its accuracy.
After be loaded in the program the chart image may be edited to optimize the extraction of data, using the editor available in the application.
The principles of extraction of data is simple: the program scans the picture, from bottom to top (or vice-versa), measuring the distance from the top (or bottom) until the line of the graph. Through the maximum and minimum values reported for the X and Y axes the program generates the numerical values of each point (X, Y) along the graph's line, corresponding to the scale used in the original figure.
The program finds the graph's line through its color, to be specified by the user in advance. Therefore can not appear in the image other graphics or text that have the same color as the chart's line. Also for this reason it is possible to extract data from different graphics on the same image as long as the color of each line is different.
The data generated can be saved, copied or exported to MS Excel.
The links to download the installer are at the bottom of the page.
---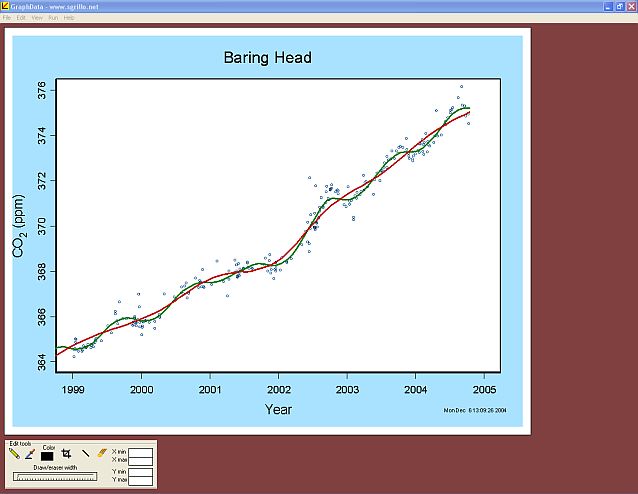 Edit mode screen with an original image
---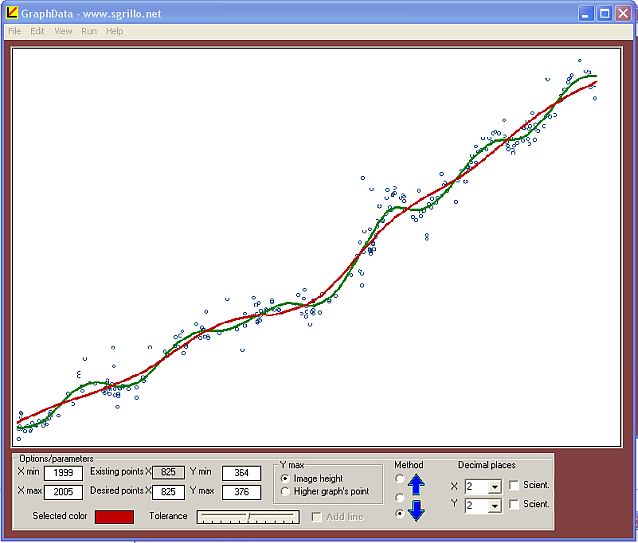 Edited image ready for data extraction
---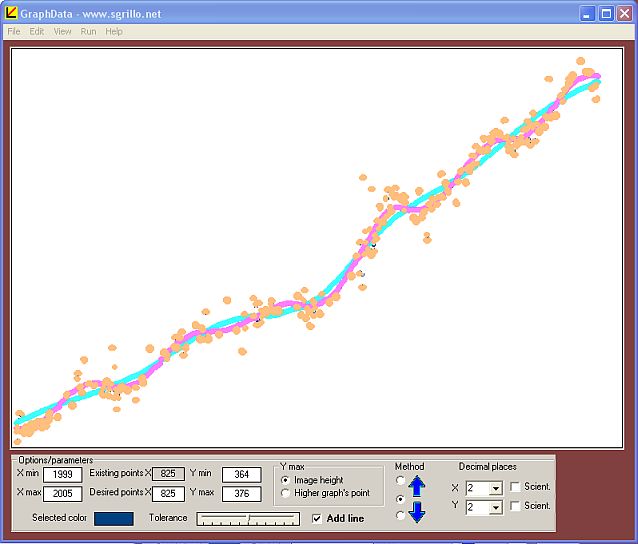 Circles with complementary color indicate the points where numerical values were extracted from from the chart
---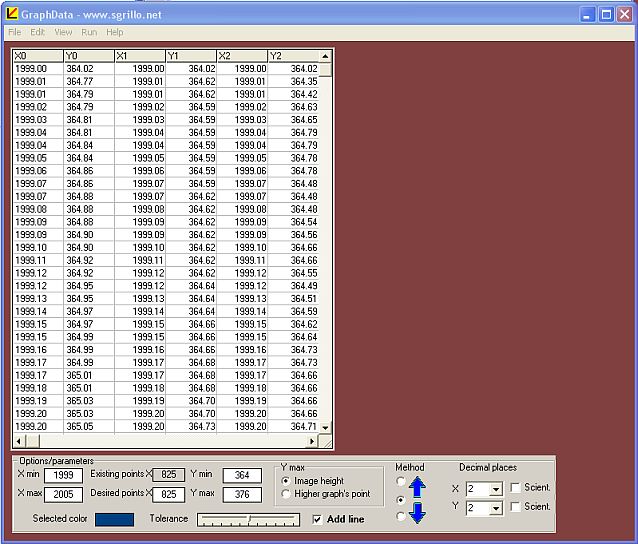 Table with numerical values extracted from the chart
---
To install the program download the full setup, unzip on any temporary folder and run setup.exe
Download setup full (2414 k)
It is likely that you already have the VB6 runtimes installed on your computer. In this case there is no need to use the full installer. You can download the binary and help file below and unpack the files in any folder you wish.
Download binary and help file (374 k)
Support: ricardo.sgrillo@terra.com.br