Inspection Methodology
Ricardo Sgrillo
Cocoa Research Center (CEPEC/CEPLAC)
rod. Ilheus-Itabuna, km 22, 45650-000, Ilheus, BA, Brazil
ricardo.sgrillo@terra.com.br

[ GraphData
- extract numbers from chart images]

---

download also: Climogram climatic similarities between different places

---
Papers on the subject:
1. CONSIDERATIONS ON THE APPROPRIATE LEVEL OF PROTECTION, ACCEPTABLE LEVEL OF RISK AND PHYTOSANITARY MEASURES

2. EFFICACY AND EQUIVALENCE OF PHYTOSANITARY MEASURES (A discussion and reference paper prepared for the IPPC Expert Working Group on the Efficacy of Phytosanitary Measures - Imperial College, UK 2-4 July 2002

3. QUANTITATIVE ANALYSIS TOOLS FOR PHYTOSANITARY MEASURES: A PERSPECTIVE FROM SOUTH AMERICA (presented at INTERNATIONAL CONFERENCE ON SANITARY & PHYTOSANITARY (SPS) RISK ASSESSMENT METHODOLOGY, August 9 -11, 2005 Washington DC )
---
The Application
Inspection methodology is a tutorial for the Plant Inspection Services, developed for the International Plant Protection Convention (IPPC) . It starts with a methodology to choose the sampling size, according to the hypergeometric distribution. You can draw graphs comparing different sampling methods (percent sampling, constant sample size and hypergeometric sample size). You can also simulate the ingress and establishment of plant pests according to the sampling size and other factors.
The program cover the following titles:
---

SCREEN SHOT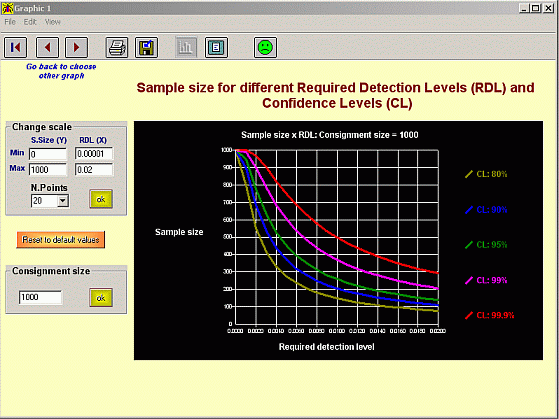 Download complete (4873 KB)

---

You probably have already the Visual Basic 6 runtimes routines installed in your hard disk. If this is true then you can download the smaller version:

Download smaller version (1786 KB)

---
Remarks

This package contains all the necessary files (including the Visual Basic 6 runtimes routines, graphic server and windows controls) to install the application sampling.exe.


To install :

1. Download and unzip distrib.zip in any folder (not applicable if you downloaded the smaller version)

2. Run setup.exe or setup_small.exe ( if some files in your system are not updated it is possible that you be asked to restart your computer before proceed with the installation)

3. Few systems might present an error while trying to register the graphic server. If this occurs ignore the error and run the application sampling.exe. Try to open any graphic form. If you don't get, download graph.exe and run it. Then run the file GSW32.EXE (it is in the application folder or in the win/system folder ). If the server loads, unload it with your task manager (ctr alt del) and try sampling.exe again.

4. Your regional settings must be configured to use a . (dot) as decimal separator.

---

Support: Ricardo Sgrillo (ricardo.sgrillo@terra.com.br)